Deaf Books is a new page I have decided to add to the website. It will look at the books I have read and give a brief overview, of the book. The first two are: Deaf Crime Casebook by Peter Jackson, who is profoundly Deaf himself and an avid reader and writer within the Deaf Community. The other one is called: Breaking The Silence and is very inspiring written by Jo Milne, a Deafblind lady who went viral on Utube in 2014 when she was filmed listening on a new Cochlear Implant for the first time.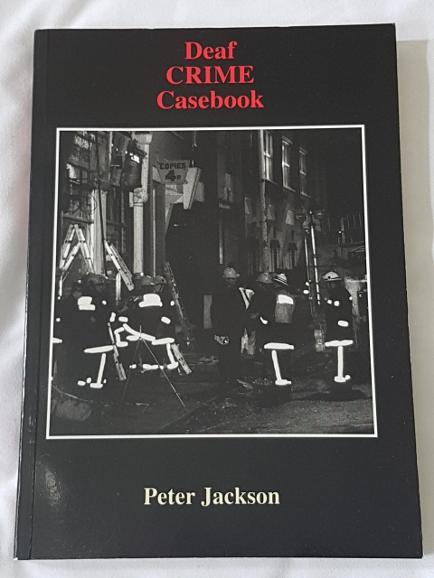 Peter Jackson is a strong advocate of the Deaf Community and lives in Winsford Cheshire. This Deaf Crime Casebook offers a compelling read into heinous crimes committed within Britain's Deaf Community. Peter describes the brutality of the crimes and how tragic and pathetic circumstances often combine Deaf people and their victims together. Motives can be complex ranging from sheer animal rage to strong passion. A long and expensive investigation includes the murder of Suzanne Greenhill. A Porno Cinema Fire was also investigated near King's Cross, London.
Peter has been retired for a number of years although he still supports the Deaf Community in various ways, not least the BDHS and has more books in the pipeline.
This autobiography of a Deafblind woman shows a very resilient strong person who overcame bullying at school, very much like myself and possibly many other deaf children. In the days when deafness was little understood, one had to just get on with things. Joanne did this very well and also found work fairly easily although this is not difficult when it is a job concerning deaf companies and those who serve deaf communities. They usually take on deaf people as a form of positive discrimination.
The CI fitting was nerve racking and I puzzled over her hearing "for the first time" with this implanted aid, when she had grown up with hearing aids. I do not think it possible to know someone has a "Geordie accent" if they are hearing for the very first time! This can only mean the hearing aids were useless all those years or she could hear with them and knew what a "Geordie accent" sounded like, which means she was not hearing for the "first time" at all!
It is moving indeed when Jo realises she is going blind and even when Doctors told her she wasn't, she knew she was! The lesson here is to always trust your own instincts! It was a double whammy of course to find as one sense improves another wanes. This is the curse of Usher Syndrome, usually diagnosed as retinitis pigmentosa (type 2) and deaf people then have to come to terms with a steady erosion of sight as the retina blacks out vision.
Jo has continued with great fortitude after this diagnosis and I especially enjoyed her guide dog stories. The first one was hilarious, always rushing off to the park, instead of where Jo wanted to go! It opens your eyes to the fact that a deafblind person could use a guide dog, even though most of those I know have a person as a guide, due to the inherent dangers of a dual sensory loss. It also demonstrates that not every dog suits a particular person. And not every guide dog passes. This first guide dog is now a sniffer dog at airports!
Jo has happily settled with her 2nd guide dog and continues to make inroads into the deafblind spectrum and live well with the life dealt her.